Vision
To produce skillful and innovative electronic engineers with professional ethics who are capable of socio-environment for state and region.
Mission
To nurture well educated engineers with fully knowledge and skills
To produce all-around electronic engineers especially in leadership, innovation and creative thinking to meet the needs of social environment
To build better teaching learning environment for on-going process such as offering job opportunities, communicating with companies, industries and stakeholders to provide work experience in the field of work and study
To carry out the achievement of certification of the standard education and quality assurance by the relevant committee
Quality Objectives
To achieve the vision, mission of the Department of Electronic, Technological University (Sagaing),
To achieve at least 75% of the pass rate of students.
To achieve at least students' satisfaction and suggestions according to the ISO 9001:2015 and quality objective of TU (Sagaing).
To implement Outcome Based Education (OBE) with effective plans and functional objectives of respective subjects.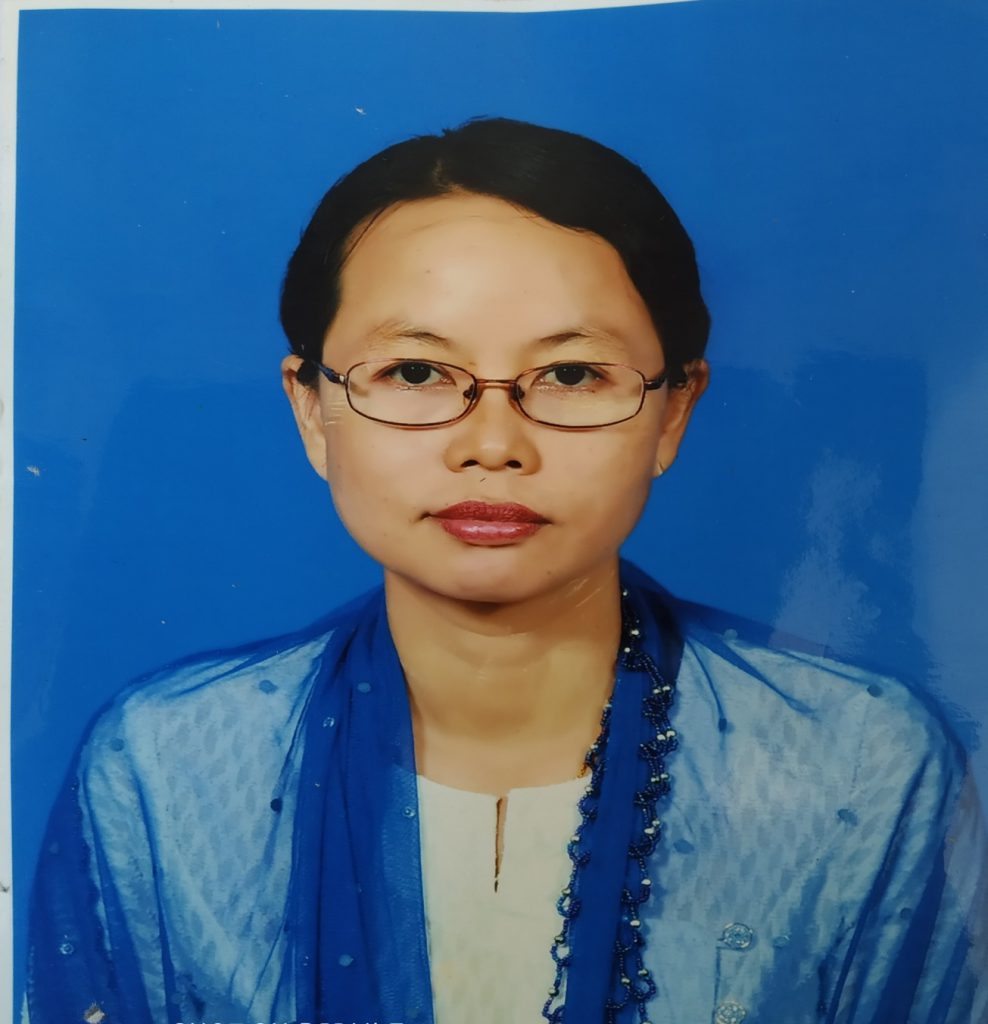 Organization Chart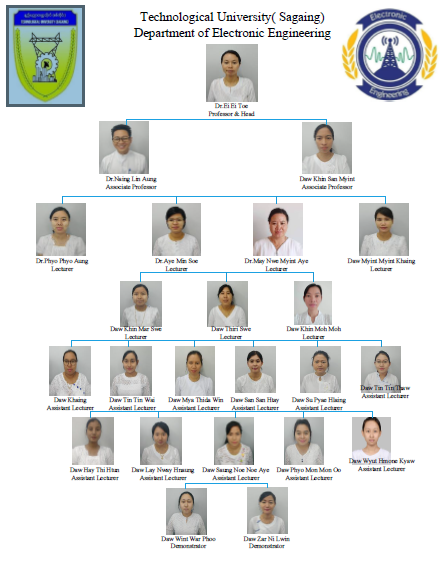 | No | Name | Rank | Degree | Phone No. |
| --- | --- | --- | --- | --- |
| | | | | |
| 1 | Dr. Ei Ei Toe | Professor | Ph.D (Electronics) | 09-422203189 |
| 1 | Dr. Naing Lin Aung | Associate Professor | Ph.D (Electronics) | 09-43059355 |
| 3 | Daw Khin San Myint | Associate Professor | M.E (Electronics) | 09-798649280 |
| 4 | ‌Dr. Phyo Phyo Aung | Lecturer | Ph.D (Electronics) | 09-259058274 |
| 5 | Daw Khin Moh Moh | Lecturer | M.E (Electronics) | 09-796325786 |
| 6 | Dr. Aye Min Soe | Lecturer | Ph.D (Electronics) | 09-401673734 |
| 7 | Dr. May New Myint Aye | Lecturer | Ph.D(Electronics) | 09-457274946 |
| 8 | Daw Thiri Swe | Lecturer | B.E (Electronics) | 09-400421636 |
| 9 | Daw Myint Myint Khaing | Lecturer | B.E (Electronics) | 09-250472667 |
| 10 | Daw Khin Mar Swe | Lecturer | B.E (Electronics) | 09-789364681 |
| 11 | Daw Khaing | Assistant Lecturer | M.E (Electronics) | 09-798708562 |
| 12 | Daw Su Pyae Hlaing | Assistant Lecturer | B.E (Electronics) | 09-43002236 |
| 13 | Daw Mya Thidar Win | Assistant Lecturer | B.E (Electronics) | 09-402697419 |
| 14 | Daw Hay Thi Tun | Assistant Lecturer | B.E (Electronics) | 09-400420623 |
| 15 | Daw Tin Tin Thaw | Assistant Lecturer | B.E (Electronics) | 09-444669463 |
| 16 | Daw San San Htay | Assistant Lecturer | B.E (Electronics) | 09-252518550 |
| 17 | Daw Lay Nway Hnaung | Assistant Lecturer | B.E (Electronics) | 09-256107674 |
| 18 | Daw Wut Hmone Kyaw | Assistant Lecturer | M.E (Electronics) | 09-5261434 |
| 19 | Daw Saung Noe Noe Aye | Assistant Lecturer | B.E (Electronics) | 09-400474368 |
| 20 | ‌Daw Phyoe Mon Mon Oo | Assistant Lecturer | B.E (Electronics) | 09-961356732 |
| 21 | Daw Tin Tin Wai | Assistant Lecturer | M.E (Electronics) | 09-974531322 |
| 22 | Daw Nilar Tun | Assistant Lecturer | B.E (Electronics) | 09-402589892 |
| 23 | Daw Wint Wah Phu | Demonstrator | B.E (Electronics) | 09-427994846 |