VISION
To produce good electrical engineer who can cooperate with a variety of qualified and leading professionals in the relevant sectors.
MISSION
(1)To support the development of teaching / learning through the development of teaching methods through workshops, lectures by external experts and presentation for research papers.
(2)To support quality teaching and learning in combination with practical skills.
(3)To teach students to be fulfill in leadership skill and a successful graduate in a discipline manner.
MOTTO
Let's build up the modernized and developed country by producing good qualified electrical engineer.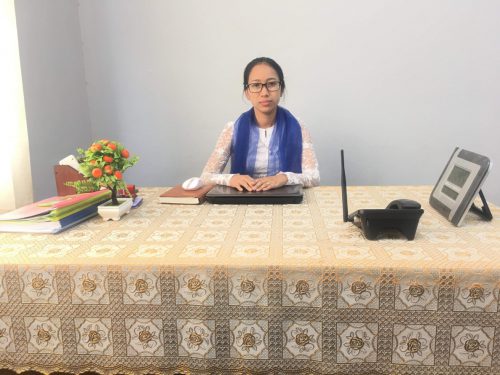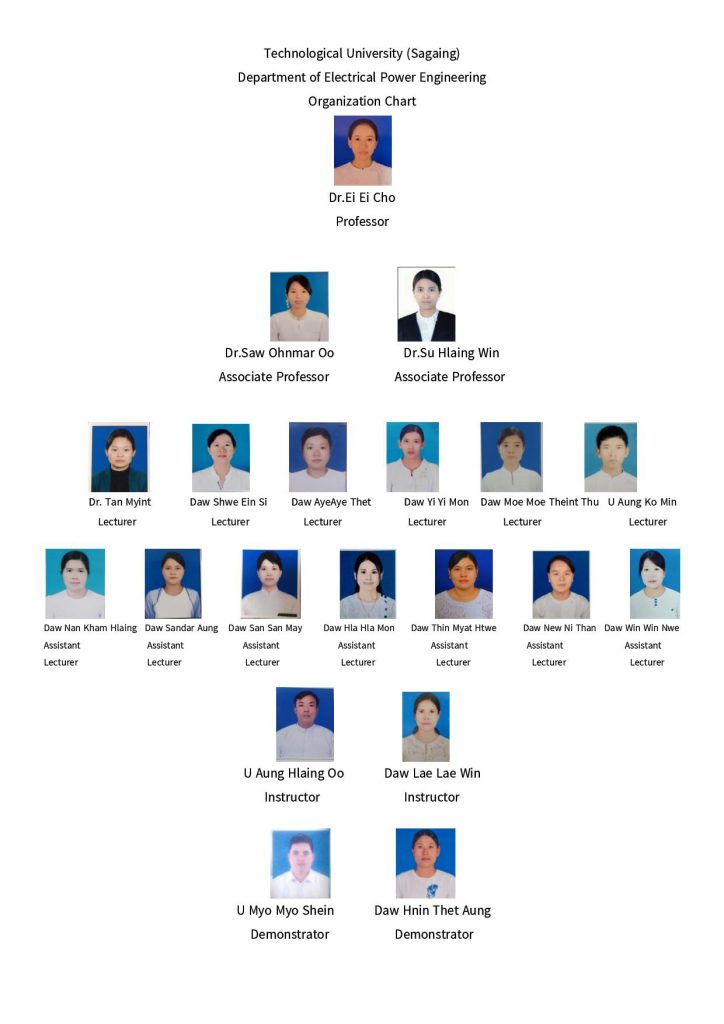 Teachers of Electrical Power Department

Teachers of Electrical Power Department

Teachers of Electrical Power Department
| Sr | Name | Rank | Phone No |
| --- | --- | --- | --- |
| 1 | Dr.Ei Ei Cho | Professor | 09428137327 |
| 2 | Dr.Saw Ohnmar Oo | Associate Professor | 09402505488 |
| 3 | Dr.Su Hlaing Win | Associate Professor | 09258376241 |
| 4 | Dr. Than Myint | Lecturer | 09797781941 |
| 5 | Daw Shwe Ein Si | Lecturer | 09400411729 |
| 6 | Daw Aye Aye Thet | Lecturer | 0943111408 |
| 7 | Daw Yi Yi Mon | Lecturer | 09794042293 |
| 8 | Daw Moe Moe Theint Thu | Lecturer | 09400544782 |
| 9 | U Aung Ko Min | Lecturer | 09797927304 |
| 10 | Daw Sandar Aung | Assistant Lecturer | 092015049 |
| 11 | Daw Nan Kham Hlaing | Assistant Lecturer | 09969680539 |
| 12 | Daw San San May | Assistant Lecturer | 09444015206 |
| 13 | Daw Nwe Ni Than | Assistant Lecturer | 09444036146 |
| 14 | Daw Hla Hla Mon | Assistant Lecturer | 09780652019 |
| 15 | Daw Thin Myat Htwe | Assistant Lecturer | 09400421383 |
| 16 | Daw Win Win New | Assistant Lecturer | 09425015134 |
| 17 | U Aung Hlaing Oo | Lecturer | 09792484882 |
| 18 | Daw Lae Lae Win | Lecturer | 09444035193 |
| 19 | U Myo Myo Shein | Demonstrator | 09698487395 |
| 20 | Daw Hnin Thet Aung | Demonstrator | 09259068742 |
| | | | |
| | | | |
| | | | |
| | | | |
| | | | |
| | | | |